| | |
| --- | --- |
| | CAMPAIGN UPDATE |
February 2015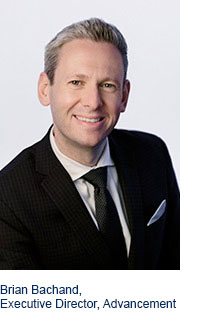 Expanding our Opportunities

Our Faculty of Medicine is an institution brimming with possibilities and landmark achievements. Whenever I meet U of T Medicine supporters, I'm always impressed and encouraged by how excited they are about the role they play in our boundless opportunities.

The Rehabilitation Sciences Sector, for example, is making great strides in expanding research to help those thousands of Canadians who will experience brain injury every year. This opportunity is made possible by a landmark $1.5 million gift from March of Dimes Canada. Our work in neuroscience will accelerate the development of new treatments for neurodegenerative diseases as a result of a $1 million gift establishing an international collaboration between the renowned Sanford-Burnham Medical Research Institute in California, and our Tanz Centre for Research in Neurodegenerative Diseases. Meanwhile, our understanding of the nutrition-related health issues facing children and their families in Canada and around the world will improve because of a $5 million gift to the Centre for Child Nutrition, Health and Development.

This is truly an exciting chapter for our Faculty. I look forward to working alongside our Dean, Dr. Trevor Young, and with all of you to expand on our opportunities. This continued support will help U of T Medicine achieve new levels of excellence in our research and education programs.

Campaign to date:
$397,610,903*

of

$500,000,000
$53,054,995
of our Campaign total has been generously donated by our alumni.
BY PRIORITY AREA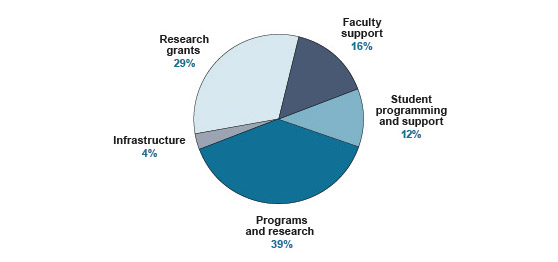 *as at January 30, 2015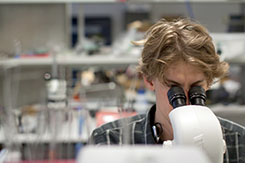 Boundless, the campaign for the University of Toronto, is intensifying alumni and donor engagement with the university's top priorities and driving new levels of support for students, faculty, research, discovery, innovation and entrepreneurship. Thanks to your support, U of T is developing the next generation of leaders to address global challenges. Learn how supporters to the Faculty of Medicine are playing an integral role.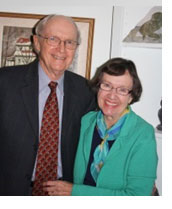 U of T Medicine Alumnus' Support Goes Towards Medical Education

It's no secret that earning a medical degree is expensive. The average Canadian medical graduate finds themselves in $150,000 of debt: a staggering amount for aspiring physicians. Dr. Douglas Wilson, an alumnus and former medical educator, wants to help today's students overcome some of the financial challenges they face. Read more
Upcoming Events




May 6, 2015
Campaign Cabinet Meeting
May 11, 2015
Student Awards Reception
Recent Events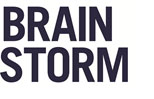 Brainstorm Psychiatry Event
February 10, 2015



The Department of Psychiatry Campaign Cabinet hosted an intimate gathering recognizing the advancement of brain health in the 21st century. The event was attended by Chancellor of the University of Toronto, the Honourable Michael Wilson, and Dean Trevor Young. Focused on improving mental health, the Department of Psychiatry's ambitious $30 million campaign is organized around three central pillars: preparing transformative leaders, driving research and innovation, and responding to critical mental health challenges. Integral to the success of the campaign are cabinet members Dr. Paul E. Garfinkel, Mr. Paul Beeston and Ms. Jacquie Labatt.
The Faculty of Medicine is a place of immense inspiration, remarkable advancements and boundless impact. Please watch our Boundless campaign video that describes our campaign fundraising priorities based on the Faculty of Medicine strategic goals.


University of Toronto
Faculty of Medicine
Office of Advancement
6 Queen's Park Crescent West
Toronto, ON Canada M5S 3H2
Canada
416-946-3111
medicine.utoronto.ca