| | |
| --- | --- |
| | CAMPAIGN UPDATE |
January 2015


Brian Bachand,
Executive Director, Advancement
An Exciting Year Ahead

A new year is always an opportunity for reflection as well as a fresh start. Over the last year the Faculty of Medicine's Advancement team cultivated donors in Canada and abroad, engaged and recognized alumni and continued to expand our new and ongoing relationships through the Faculty's signature events; in particular, the Dean's Honour Roll Luncheon, Student Awards Reception, Research Awards Reception and the landmark Norman Bethune Celebration.

As we start off 2015, I'm pleased to note there are exciting initiatives and milestones already underway. Over the next few months I look forward to working with our recently installed Dean of Medicine and Vice-Provost of Relations with Health Care Institutions,
Dr. L. Trevor Young, to identify new opportunities that are in alignment with the strategic priorities of the Faculty and the wider university.


Campaign to date:
$395,709,639*

of

$500,000,000
$52,927,687
of our Campaign total has been generously donated by our alumni.
BY PRIORITY AREA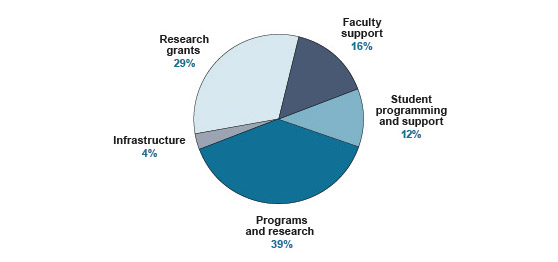 *as at January 9, 2015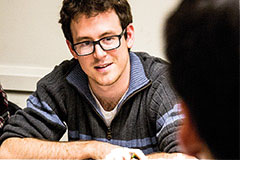 Better Care by Learning Together

I'm learning medicine with doctors, but I know I'll be practising it with nurses, pharmacists, and other providers. That's why I was drawn to the Interprofessional Education (IPE) Curriculum right away in my first year of medical school at U of T. So far, I've taken ten elective credits – and I have to say they've been some of the most valuable experiences I've had in my medical education. Read more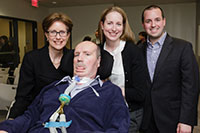 Inspiring Others Through Personal Experience

Five years ago, James Hunter—one of Canada's most respected financial entrepreneurs—was diagnosed with Amyotrophic Lateral Sclerosis (ALS), a neurodegenerative disease that progressively destroys the nerve cells we need to walk, talk, swallow and breathe. Read more
Upcoming Events




May 6, 2015
Campaign Cabinet Meeting
May 11, 2015
Student Awards Reception



Recent Events




President's Circle Holiday Party
December 8, 2014



The President's Circle Holiday Party is an annual event that recognizes and thanks our President's Circle members for their generous and continued support of the University. Over 350 members joined President Meric Gertler and President's Circle Chair Dr. Wendy M. Cecil for an evening of mingling and good cheer.
March of Dimes Canada
November 27, 2014



The Faculty of Medicine recognized the generosity of March of Dimes Canada for their recent $1.5 million gift to the Department of Occupational Science and Occupational Therapy to establish the March of Dimes Paul J. J. Martin Early Career Professorship focused on research in community re-integration following acquired brain injury. The event included speaking remarks from CEO and President of MODC Andria Spindel, and grateful patients Jeff and Jennifer Wolfenden.
Colon Cancer Canada "Top to Bottom Campaign" Recognition Event
November 25, 2014



The Faculty of Medicine's Department of Surgery hosted supporters from Colon Cancer Canada to celebrate the annual Top to Bottom Campaign. Team Toronto is comprised of six surgeons from the department and our partner teaching hospitals, raising funds to support the next generation of colon cancer specialists through the Bernard and Ryna Langer Chair General Surgery and the Surgeon Scientist Training Program, which provides graduate scholarships to surgical trainees. To date, the Top to Bottom Campaign has raised over $465,000 in support of colon cancer research at U of T.
Launch of the Centre for the Commercialization of Antibodies and Biologics
November 24, 2014



The Faculty of Medicine welcomed supporters to a reception celebrating the launch of the Centre for the Commercialization of Antibodies and Biologics (CCAB) at the Donnelly Centre. CCAB Director Dr. Sachdev Sidhu, Donnelly Centre Director Brenda Andrews and Catharine Whiteside spoke about the Centre's focus on moving ideas more quickly out of the lab and into the marketplace. The CCAB received a landmark $15 million federal grant, underscoring the government's commitment to invest in research and innovation that improves the quality of life of Canadians.
The Faculty of Medicine is a place of immense inspiration, remarkable advancements and boundless impact. Please watch our Boundless campaign video that describes our campaign fundraising priorities based on the Faculty of Medicine strategic goals.


University of Toronto
Faculty of Medicine
Office of Advancement
6 Queen's Park Crescent West
Toronto, ON Canada M5S 3H2
Canada
416-946-3111
medicine.utoronto.ca